Umma of Mom Conversations is currently hosting
$300 Worth Brand new COACH Satchel bag Contest
in celebration of her 6th wedding anniversary next month. It's her first time to hold this kind of contest that's why if ever it turns out to be a success, she'll be holding a contest every month so everybody will have a chance to win one of her fabulous prizes. Ain't that cool??
This contest is open to all bloggers worldwide and will run from June 28 until July 28. One lucky winner will take home this extra chic brand new Coach satchel bag. Now it makes me drool..hihi I would love to own this chic bag. Hope i'll be lucky to win this one. Wishful thinking :)
I was actually invited by ate Niko :)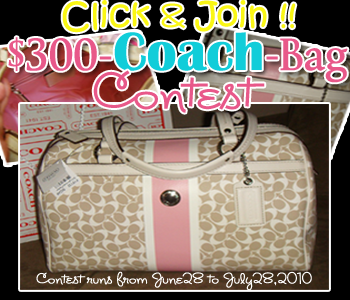 Beauty Tips and Tricks : Get Smart Blog : Practical Beauty Tips : Spices of Life : Review My Opinions : New Haircuts and Hairstyles : Fabulously Frugal : Weight Loss the Healthy Way
So why don't you try your luck too?
And if you're interested in joining as well please don't forget to note me as your referrer- Prettymom!
Thanksy.. mwah :)
Now head on to
$300 Worth Brand new COACH Satchel bag Contest
and read about the full mechanics.